Mikis Theodorakis is a Greek composer, author and politician who was born on Chios Island (Χίος) in 1925. His father was from Crete (Κρήτη) and his mother from Çeşme in Turkey. He is international famous for his songs, his film music for the movies "Alexis Sorbas", "Z" and "Serpico" and his political exposure.
Even as a child Mikis Theodorakis was fascinated from the music and wrote his first songs - without having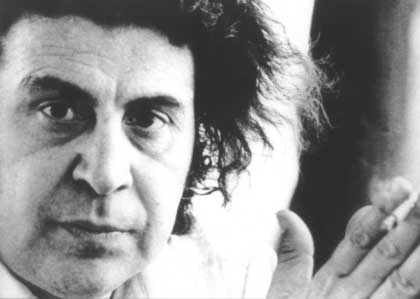 a music instrument. Later he visited music lessons, established a church choir and gave his first concert in the age of 17.
He was hired as "head of the Chania Music School" and founded his first orchestra. In the early 1950s he was successful at the Athens Conservatory and he studied music in Paris (1954-1959).
In March 1953, he married his fiancée Myrto Altinoglou.
Early on, the success of the young composer had set. His "Song of Captain Zacharias" (1939) became the official resistance song of the Navy during the war. And with many other pieces of music and symphonies, he continued his career so far. With his film music Theodorakis got also a wide audience. In 1958, his daughter Margarita and in 1960 his son George were born in Paris. George should be a musician and composer later.
Just as he began to take part on the international music scene with his symphonic music, Theodorakis returned from Paris to Athens, turned to the Greek roots of the music and so began the "third period" of his musical creativity. He wrote a lot of songs and pieces of music about the history and culture of Greece. His (folk) songs got more and more important and famous in the 60's. An ideal interpreter of his compositions is the singer Maria Farantouri.
Until today he is still very famous as a film music writer and a great composer. Nowadays, Mikis Theodorakis is the most famous living person who was born in Chios.
If you want to know more about him, visit his official website.